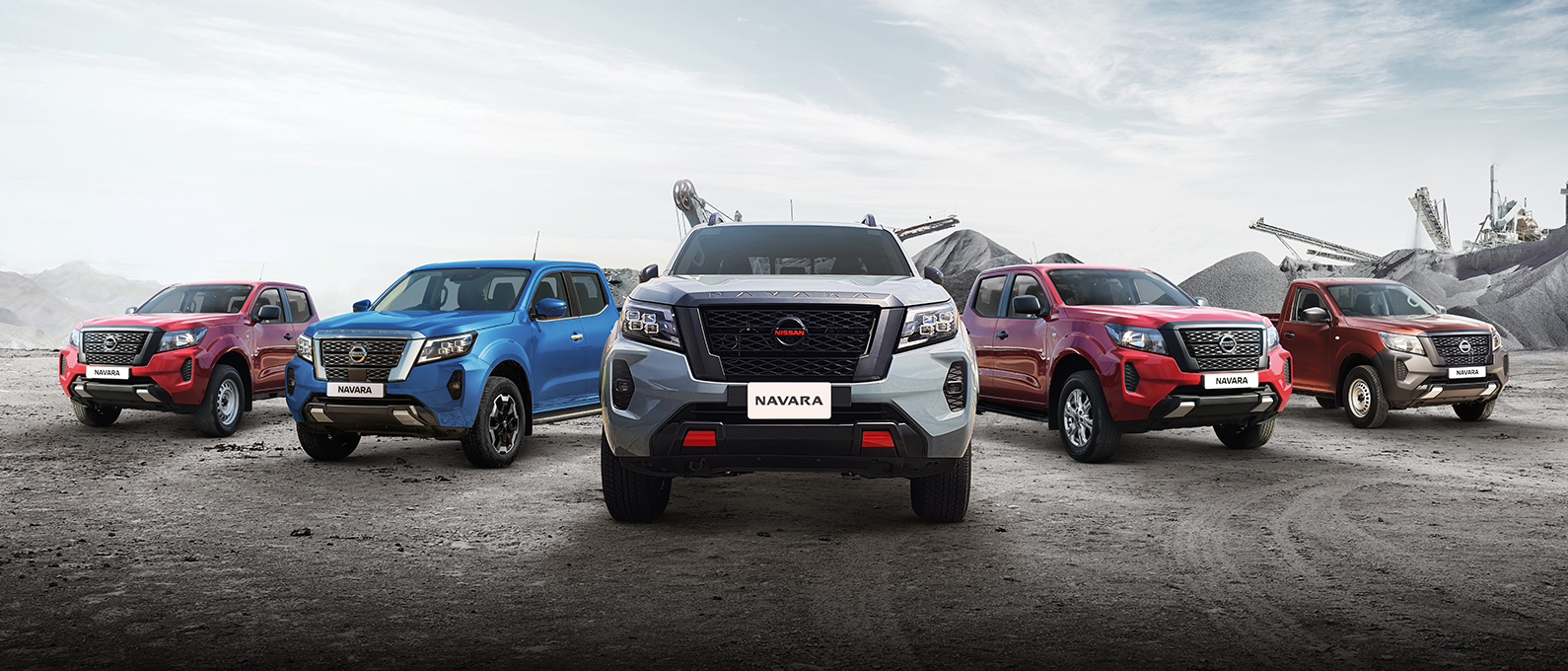 EXPLORING THE ALL-NEW NISSAN NAVARA:
A BLEND OF POWER AND INNOVATION
The automotive world is buzzing with excitement as Nissan introduced the latest addition to its line-up: the All-new Nissan Navara. With its impressive combination of power, innovation, and design, the Nissan Navara aims to redefine the pickup truck segment. Let's delve into the key features and innovations that make the Nissan Navara a standout choice for both adventure enthusiasts and urban commuters.
From the moment you lay eyes on the new Nissan Navara, its striking exterior design captivates your attention. The dynamic lines and bold grille give it a commanding presence on the road, while carefully crafted details enhance its aerodynamic efficiency. Whether you're navigating city streets or tackling 4x4 off-road trails, the Navara's design ensures you do it with style.
Performance that Excites.
Under the hood, the Nissan Navara doesn't disappoint. It offers a range of powerful and efficient engine options, providing the perfect balance between performance and fuel economy. Whether you opt for the refined diesel engine or a robust petrol variant, the Navara's engines deliver the torque and horsepower needed to handle any terrain or task.
When you get inside the Navara, and you'll find a cabin designed with comfort and innovation in mind. The spacious interior offers ample room for both passengers and cargo, making every journey a comfortable one. But it's the advanced technology that truly sets the Navara apart.
The infotainment system boasts seamless smartphone integration, allowing you to stay connected and entertained while on the move. Additionally, driver-assistance features like adaptive cruise control, lane departure warning, and automatic emergency braking enhance safety and confidence on the road.
Off-Road Capability
For those who crave adventure beyond the pavement, the Navara's off-road capabilities are sure to impress. Its robust chassis and advanced suspension system ensure a smooth ride even on challenging terrains. With selectable 4X4 models, the Navara lets you conquer mud, sand, and rocky trails with ease. Whether it's a weekend getaway or a remote exploration, the Nissan Navara is equipped to take you there.
Versatility Redefine
What truly sets the new Nissan Navara apart is its versatility. It's not just a rugged off-roader; it's also a practical daily driver. With a spacious interior and various storage solutions, the Nissan Navara adapts to your needs. Whether you're transporting tools to the job site or loading up for a camping trip, the Navara's flexible bed and interior configurations make it an ideal companion.
Unmatched Safety Features
Safety is paramount, and the new Nissan Navara takes it seriously. The vehicle is equipped with a comprehensive suite of safety features designed to keep you and your passengers protected on every journey. From blind-spot monitoring to rear cross-traffic alert, the Navara utilizes cutting-edge technology to enhance your awareness and prevent potential accidents.
The robust chassis and frame construction, combined with a plethora of airbags strategically placed throughout the cabin, provide a reassuring sense of security. Whether you're navigating through city traffic or venturing off-road, you can drive with confidence, knowing that the Navara has your safety at heart.
Nissan has gone the extra mile to ensure that the Navara isn't just a utilitarian vehicle – it's a luxurious and comfortable ride too. Premium materials and thoughtful design elements adorn the interior, creating an environment that's as refined as it is practical.
Whether you're embarking on a long road trip or simply navigating your daily commute, the ergonomically designed seats, dual-zone climate control, and acoustic insulation make every journey a pleasurable experience. The Navara's interior is a testament to Nissan's commitment to creating a driving space that's not only functional but also a retreat from the outside world.
Conclusion: The Next Frontier
In a market segment where versatility, performance, and innovation collide, the all-new Nissan Navara stands as a symbol of what's possible. Its blend of powerful performance, advanced technology, off-road prowess, safety features and luxury  make it a well-rounded choice for those seeking more than just a pick-up.
Whether you're navigating through urban landscapes, exploring off-road trails, or embarking on a cross-country adventure, the Nissan Navara is ready to be your reliable and dynamic companion.
To explore the full range of features and discover why the new Nissan Navara is generating so much buzz, visit the Nissan Navara page. Embrace the next frontier of driving with the Nissan Navara – where innovation meets aspiration, and possibilities are limitless.